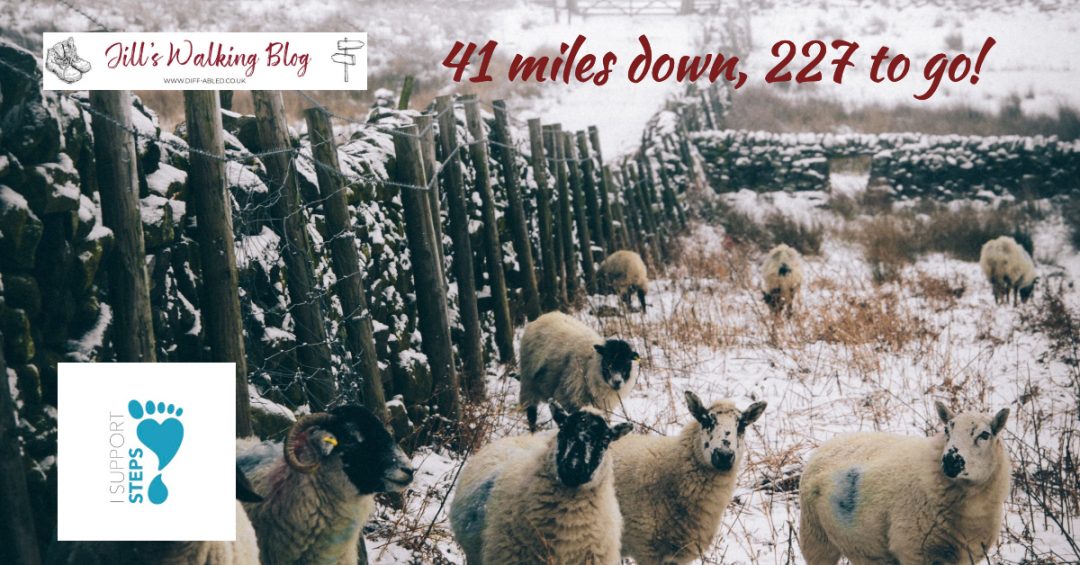 So the good news is I've now completed 41 miles of my virtual Pennine Way challenge.  If I'd been walking the real trail, I'd be in Hebden Bridge in Yorkshire by now. But in lockdown-land I'm still doing my winter walks safely and locally in Walton on Thames.
My progress has been a little steadier than in my first week though, for two reasons.
First, I overdid some sweeping at home, and got myself out of alignment. For a few days I couldn't move without severe pain in my knees, right hip (the real one, not metal one) and neck. Even my gentle yogic sun-salutations were too painful. Swimming in a warm pool is normally the best re-alignment – which of course is not allowed right now – but thankfully, visits to my osteopath are within the rules. My heart goes out to everyone who can't exercise fully right now, and especially diff-abled people where their options may be even more limited.
The second reason was, of course, the snow. I love watching the snow fall and my partner will tell you that I turn into an 8-year-old giddy-kipper! My body, however, doesn't compute. The fragile biomechanics lose their grip, and my fear of falling goes into overdrive.
I know I'm not alone in this. I was contacted by a new friend with DDH via the blog, whose hip dysplasia story is quite similar to mine in terms of childhood diagnosis. She commented that she dreads the snow for the same reasons.
I had my femur lengthened when I was 16 – very innovative at the time the surgery was done in the late 80s and for the first time I was straight if I stood still. It definitely helped my back, and also my singing (as I could use both sides of my lungs for the first time), but it meant that my orthopaedic surgeon couldn't set my hips level 16 years later when I had my left hip replaced. And today, adds to the balance issues, as well as the unique gait.
So for a few days the closest a got was watching the winter walks series on the BBC i-player (well worth a watch if you want some calm and spectacular scenery).
In the last week, as the snow has passed, I've got back into stride on my own winter walks.
And I'm very thankful for them.
Jill Pringle was born with bi-lateral hip dysplasia. She is walking the virtual Pennine way to raise awareness of DDH and money for Steps Charity, whose motto is We Don't Take Walking for Granted. You can support them, and Jill's walk, on JustGiving here.