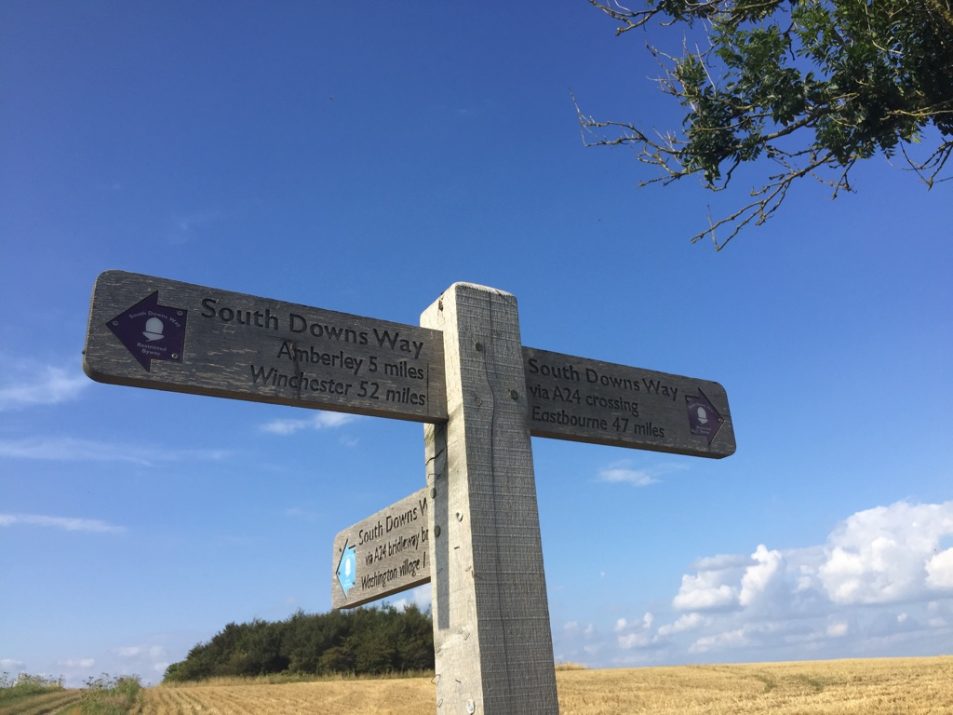 One week after my most difficult walk, I was back in the Amberley valley feeling much more relaxed.  This walk was to be an exciting one, because it took me past the half-way point of the South Downs Way. 
It was a very hot Friday as I climbed high above Amberley. When you're heading for a destination it's very easy to focus only on where you're going, but on this walk in particular most of the spectacular views were when I stopped and looked back at how far I've come.
It seems like only yesterday when I decided to challenge myself to walk the South Downs Way, but it was almost 18 months ago that I had the mad idea. I was in the Peak District, finding it hard to climb a hill, and thinking back to my childhood atop dad's shoulders on the moors near Sheffield.
Despite my hip dysplasia, we would be out walking as a family most Sundays.  Dad was passionate about public access to land.  Looking back further to just before my Dad was born, Kinder Scout in the Peak District was actually the location of a mass trespass in 1932 that ultimately led to the right to roam movement and the formation of Britain's first National Park. More National Parks followed and the South Downs National Park is actually the newest. Imagine a world where we couldn't get out into the fields, the forests or the moors?  I'm grateful to those who walked before me and gave me this right to roam, as slowly as I like.
Day one of my two-day walk was definitely easier than last week. It was just over 6 miles, but it was still a slow walk due to the heat, with very little shade on this part of the Way. Even stopping for an energy snack or a sandwich was invariably sitting out in the full force of the sun. Of course, the bright sunshine made the views back over the Amberley valley quite spectacular – every colour imaginable lay behind me – green downs punctuated by sheep, brown cornfields and a meandering river like something from a turner painting. Sadly, there's no set marker at the half-way point, but the pictured signpost signalled that I'd passed it two miles back!
It took me five and a half hours in total to make it the 7 miles through farm fields to the A24 water tap (and I was parched by the time I got there) for the turn off to Washington.  I was staying in a small B&B called Holt-House – which turned out to be a gem of a place due to its wonderful host, Anne who understands what true hospitality is all about.  She welcomed me into her home and beautiful garden for an evening of much needed rest and wonderful conversation.
I departed after breakfast for day two, and climbed up the steep track from Washington towards the Chanctonbury Ring. Today was more overcast and a perfect walking day – able to see for miles yet feel a cooling breeze. I enjoyed every minute of this walk not least due to the sheer number of people out even early in the morning. Whether they were cycling, hiking, jogging, trekking on horseback or just out walking the dog, everyone was enjoying the spectacular views from the top of the ridge. I was compelled to sing a little bit of 'let's go fly a kite' as I wandered across the top of the moors. I felt so free. This is what the march for public access was all about.
I was wearing shorts and so my strapped-knee was fully visible and many of the people I passed asked me how I was injured (the limp is also a bit of a give away). It was nice to tell a little of my story and why I'm doing this walk – sharing just how common hip dysplasia really is and how it's affected me.
In the end I felt so good that I walked an extra two miles, not turning for Steyning but walking on to Botolphs.  Here I was also reminded that not only do our National Parks give us the right to roam, but they are also home to many working farms who produce our food day in, day out. I've been used to talking to the sheep, or navigating cow-herds, but today I also passed pig farms, and sows suckling their new litters of piglets.  I was saddened to see signs having to remind walkers or cyclists to close the gates, keep dogs on leads and not feed the pigs – a sign that we humans take for granted our right of way without an understanding of the negative impact we can have on those who live there and conserve this land.
Breaking the walk into two days made all the difference to my enjoyment, and so that will be the plan until the end. Because I am, amazingly, over half way (58 miles down!) Sadly, in this part of the world, it's not all down hill from here though!
Until the next time….enjoy your right to roam in England's green and pleasant land.
As well as walking to challenge myself I'm also raising money for a small charity called Steps. Like me, many people are born with hip dysplasia and other lower leg conditions, and Steps support those individuals and their families. I'm trying to raise £3830 which would be about £1 for every step I walk on this path. If you'd like to support me just a little please click here.