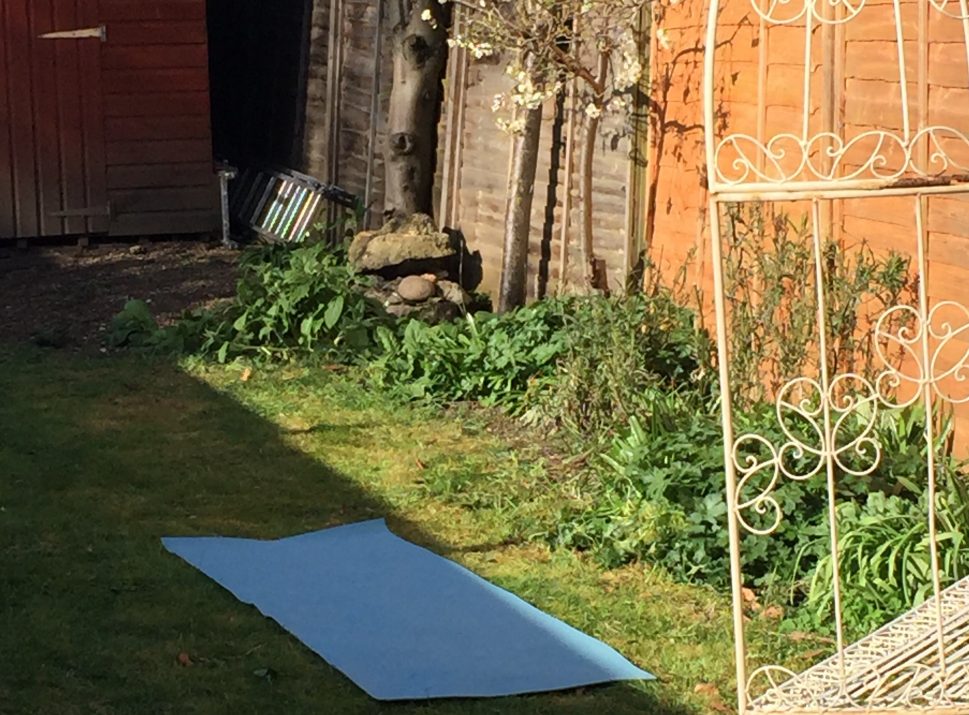 So I got up this morning and decided that I was definitely going to seize up if I didn't take action to get more exercise during the collective lockdown. For the last few days I have gone out for a daily walk – at safe distance – but my body is so used to its morning swim, and monthly osteo visit, that it's starting to really object. The swimming pool has always been the one place where my body doesn't feel lopsided, and it totally relaxes. Rather than feeling like exercise it feels like giving my brain and my muscles a rest. Like everyone I've got to find a new way of doing things when what we would normally do isn't an option for very good reason.
My drawings for a pop-up olympic pool in our back garden quickly proved that I was missing most of what I needed – the space, the materials, the ability to build anything. And so I turned to my dusty yoga mat. I used to attend yoga classes in my late 20s and through my 30s, but have got out of practice in favour of swimming.
I remember my first ever Yoga class. Well actually I tried Pilates first but when I couldn't complete any of the warm up exercises I felt too awkward to return. But for some reason, in the Yoga class I could at least do something approximating the poses. And the class teacher was happy to let me get close to poses or do alternatives rather than try and push me into a pose.
And so my sun salutations this morning were my own 'hippy' version. And it was just what I needed. Achieving perfect balance between left and right when the two sides of my body aren't built the same would be a futile exercise. And so I work each side of my body as it needs, and I just skip the bits that aren't possible. The point is I'm doing it. And my muscles and mind felt the immediate benefit.
And I have invented three of my own Yoga poses. The wonky dog. The slanty plank. And it finishes off with the hippy shake (yep, sort of dancing it out).
What are you all doing to keep yourselves moving? I'd love to hear from you.
Stay safe, follow the guidelines, and do whatever exercise your hips need to keep mobile.