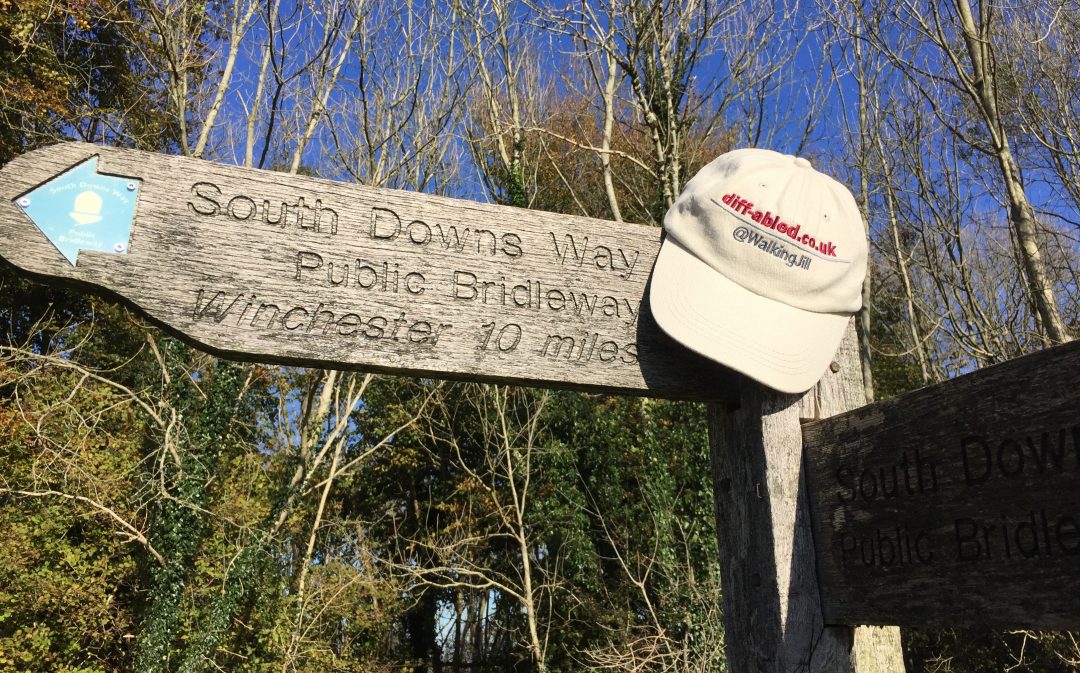 It's estimated that one in every 1000 people are born with hip-dysplasia. It takes many forms and I suspect that no two DDH walks appear quite the same.  For me, it's all about letting my right side lead.  I've never been able to stand on my left leg alone, and I start every walk – short or long – with my best 'right' foot.  And so it was on Friday, as I took my first steps from Winchester on the South Downs Way.
The weather forecast on Friday matched my walking forecast – unpredictable.  I had never walked that far in one go and I didn't know all the terrain, so I was both excited and apprehensive as I Ieft Winchester Cathedral.  I was quickly on the ascent out of Winchester when it started hailing but at that one-mile point my legs, at least, were still going to plan.  It was already quite a climb and I have to admit to feeling quite emotional as I crossed the M3 and made it to the first field.  Was I really going to walk all that way?  The field was the kind of distance of a Sunday walk that would soon see me turning back home for a nice cuppa.  After two miles I'd reached the village of Chilcomb which was beautiful in the warm Autumn light.  I made my way up the hill above the village, to my first vista of open fields.  The perfect place to stop for an energy ball, some water, and a sit down.
A man soon appeared and we got chatting about what I was doing. And our conversation reminded me why I'm doing it.  He's currently suffering with sciatica (something I've had and know just how painful it can be) and struggling to adapt to being in pain doing simple, everyday things like walking.  It reminded me that we're all differently-abled and how that changes over time.  The best runner can get injured.  A skiing accident can break a hip.  They will have to learn to adapt.  Just like someone born with a hip condition who doesn't have all the right bones in place to take their first steps.
And so I continue my journey.  By now it's hailing for the second time as I make my way across farm fields.  I feel re-energised thanks to Deliciously Ella and the sun soon returns to give me some glorious views and an hour and a half without seeing another soul.  At first the solitude is nice. And then I start to wonder where I am and how long I have to go.  I'm aching and my right knee keeps cracking.  About 5 miles in I meet a father and son duo who have spent three days cycling from Eastbourne.  When I tell them where I'm staying they say – oh, that's quite a long way yet.  Time for another energy ball I think!
There are two main challenges I've found so far on the South Downs Way.  The first is that much of the accommodation is not actually on the Way itself (since you're on the ridge above the villages). Which is why I'm staying 9 miles in, so I don't have to add further distance.  The second is that there aren't many places to sit that aren't on the ground.  At about seven and a half miles it starts getting dark and I'm feeling quite vulnerable. I've found a log to sit on and I wonder if I can make it much further?  I wish someone could carry me.  My dad, who used to carry me as a child, is slowly fading away with dementia and I'm missing him terribly.  My right hip, abs and ribs are all hurting under the strain of stabilising my body.  And so my mind is struggling to stay positive. But what's the alternative?  In the middle of nowhere you just keep going.  Best foot forward.
I've never been happier than I was when I arrived at The Milbury's.  Five hours from my start, it had just turned dark and I was really hurting.  But they're nice friendly people and make a mean chicken and leek pie!  Things could be worse.
The advantage of having had to walk so far on day one was that the second day was much shorter.  All the other times I've done big walks I've been able to rest the day after.  Today I forced my feet back into their boots and got going.  My strategy was to take my time.  I was much slower on tired muscles and my right side just hurt constantly from the get-go.  So I lurched more which hurt more.  There's nothing like nature to keep you going and it was the most beautiful crisp sunny Autumn day you can imagine (see the gallery for pics).
I stopped at the top of Beacon Hill which was the 10-mile marker.  It felt like quite an achievement and the panoramic views made it all worthwhile.  Another energy ball and I started down the hill – the part of the walk I'd trialled a month ago.  That turned out to be very helpful as I knew the terrain.  At this point my right knee had had enough – it doesn't handle slants well and this was steep.  Every stile was something to manoeuvre slowly and my steps downhill were more like a shuffle.
Being Saturday I saw many more people, all friendly, all enjoying the fresh air and the views.  And all encouraging me to keep going.  As I reached the cow field approaching Exton they felt like old friends.  Just like all the people cheering me on via Facebook @WalkingJill.  Thank you so much – you have no idea how much it helps!
As I sat outside the Shoe at Exton with my partner (who had kindly come to drive me home) I thought back over my two days.  I thought about all the people born with hip-dysplasia every year and all the friends who support them to put their best feet forward on their own journeys.
My journey will continue after a few visits to the osteopath and a bit of time to rest.  Until then, keep putting your best foot forward.  Love to you all.  Jill x
Jill is walking to raise money for Steps Charity – who support all with childhood lower leg conditions including hip-dysplasia.  If you'd like to donate, just click here.  £5 pays for an info and support pack for a family whose child has just been diagnosed.