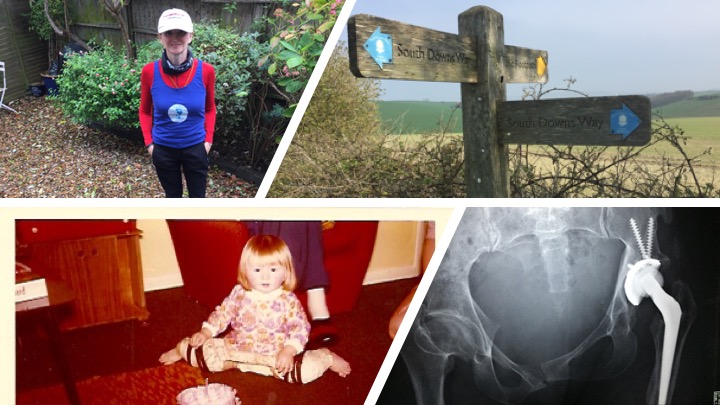 I can't believe that I'm planning my last three walks on the South Downs Way! As 'WalkingJill' I have walked over 80 miles with hip dysplasia and have just 18 miles left to go. I plan to walk them over three days and since I've had many people say "I'd love to join you" – well, now's your chance! You can join me either on Friday 25th or Saturday 26th October – and you can just walk for a bit of it or join for a whole day. Message me before Thursday 24th Oct via the contact form on this site, email walkingjill@diff-abled.co.uk or message me on Facebook via @ WalkingJill.
If you can't join but could donate please do so via Just Giving here. Steps Charity will use your donations to help individuals and their families adapt to life with hip dysplasia, providing information, practical support or funding towards specialist equipment like baby car seats that a hip spica can fit into (WalkingJill's parents would have appreciated that!)
Here are the details:
Friday 25th October. Leave Southease Station at 10.30am (my train arrives at 10.07). Walk 7.5 miles to the pretty village of Alfriston, which will probably take me about 6 hours all-in. The route climbs to over 200m in the first mile or so up to the top of Firle Beacon (bring a packed lunch for the view) and then we walk downhill at the end to get to Alfriston. There are lots of B&Bs/pubs with rooms there and you can easily taxi to somewhere with a train station.
Saturday 26th October. CALLING ALL HIPSTERS! The first part of this walk is quite accessible as it's flat. Leave Alfriston (on the Tye near the church) at 10am and walk 3 miles to Exceat. The first mile or so is totally flat walking along the Cuckmere river, then the next 1.5 miles has two small hills (50m high) to get to Exceat. You can do a bit of it and turn back or join me for the full three miles – we're all differently-abled and can do different things and I would love to walk and talk with more #DDH ers of all ages and abilities.
After that it gets much more challenging up and over the Seven Sisters for 4 or so miles to Birling Gap. This is a famous walk because it's over seven steep hills! Birling Gap is a National Trust Cafe where people can pick you up.
I'd like to thank everyone for your support, encouragement and donations so far. I never thought I would be able to do something like this and I have loved walking the South Downs Way.
Much love to you all. From WalkingJill xx