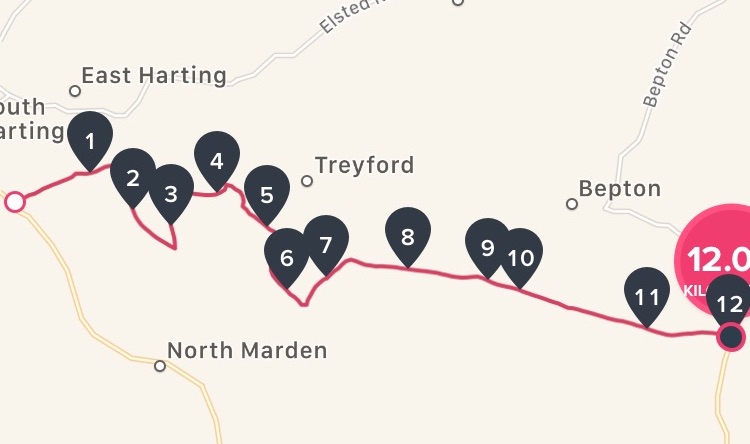 I just got back from a swim to try and reset myself from my latest walk, two days ago. As well as my right knee getting more and more painful, I've had some unusual pains recently – the hitching on the right-hand side seems to be affecting my ribs which despite two osteopathy appointments won't crack back into place. So my ribs are sticking into my diaphragm which is making it hard to breathe.
May is #NationalWalkingMonth and on Friday I walked the 7.5 miles (12K) from Harting Down to Cocking Hill, which takes my total so far to 35 miles.  I'm trying to walk 100 miles of the South Downs Way to raise awareness of Hip Dysplasia (DDH) – a condition I was born with – and raise money for a small charity called Steps who support children and adults often newly-diagnosed with the condition.
It was actually a perfect day for walking; very light drizzle so not too hot, but not so wet you have to wrap up in lots of clothing or be careful not to slip. I think one of the reasons my body is hurting is because life has been a bit stressful recently. And like all of us, I tend to hold that stress in my body and it finds the weak spots. And anxiety also makes it harder to breathe.
Of course, stopping and breathing is a great way to relieve anxiety. It's the fundamental basis of Yoga and many forms of meditation – connecting body and mind. And so, my walk on Friday was a workout for both.
I started where I left off at the top of Harting Down. I'd caught a cab from where I was going to finish, as I knew that today I'd have to take my time. Not least because I'd forgotten my poles so I was having to do it unaided.
This walk was a lovely one, I'd highly recommend it for people looking for a good day walk. There was so much variation of scenery and of nature. Vast grassland atop chalky hills led quickly into woodland of all types – some deciduous, some evergreen. Paths that went through sheep-studded farmland suddenly turned into tracks through flowery meadows. From the top of the hills you can see the Isle of Wight (although again I picked a day that was a bit misty so alas not that far from me). But it was still spectacular as you can see from the gallery. What was fantastic about this walk was that this amazing British countryside seemed to change mood every half an hour as it changed landscape. And each change gave me the chance to stop and breathe. And having to stop and breathe more in turn gave me more time to take in my surroundings. In short, I was more present.
I almost didn't go walking that day. I'd wanted to book two days but due to an event at Goodwood, polo near Cocking and a local village fete all in the same weekend, finding accommodation anywhere except the most expensive hotels was impossible. But somewhere inside I knew I needed it. Time to be. To walk. To breathe. And to recognise that whatever I go through, I'm strong enough to face it.
As always I met some lovely people along the route. Usually they're passing me as they're obviously faster – and everyone stops and says hello. It's common to share why we're walking and how we're doing 'The Way'. I met a couple who were doing a series of day trips around visiting family, another who saw me panting at the top of a hill and said "more South Ups and Downs Way isn't it?!" And a man towards the end of the route who was walking the whole thing in 8 days for his holiday, and we talked about the mental health benefits of walking alone.
In terms of pace my fitbit was tracking about 18 minutes per kilometre instead of my usual 12. It was less that my walking pace had slowed but the fact that I kept stopping and breathing. And it turned out that was just the obstacle I needed to get the most out of this walk.
Jill Pringle is walking the South Downs Way to raise money for Steps Charity – because not everyone can take walking for granted.  You can donate here and help families who are newly diagnosed with conditions like hip dysplasia, which Jill was born with in 1971.