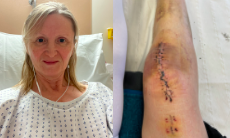 I had my total knee replacement 10 days ago, just 2 weeks after my 50th Birthday. By my counting this is my 12th orthopaedic surgery, my last being a total hip replacement in 2003. My brain had conveniently helped me forget some of the realities of recovering from surgery. And it turns out that with a knee replacement there is a specific symptom of sleep interruption that didn't come with any of my past hip surgeries.
Arriving at hospital, getting into the gown, and chatting to the anaesthetist and surgeon all felt very familiar territory. The mild anxiety of waiting (although I was lucky and first up; so down for surgery just after 8am) was also familiar. I had expected a spinal anaesthetic but to be sedated throughout, but the anaesthetist discussed with me the benefits of being awake; benefits for my recovery and also for not requiring an oxygen mask (a phobia from those childhood surgeries where you were 'gassed' to sleep with a big black mask). And so I chose to be awake. I can't begin to describe the weird sensation of the table vibrating from the drill, and the sound and motion of a hammer on my knee, but without any feeling or pain. Yet it was interesting to hear the the consultant and his team discuss the exact angle they were going to plant the knee – 1 degree this way and so forth – until they found the right place. There was a fear that my still dysplastic right hip might make it hard to find the centre of rotation, but it didn't.
I was also allowed to take my phone into surgery and listen to music – so my surgery was to the accompaniment of music by Bach, Holst and Vaughan Williams. I steered away from choral music so that I didn't start singing!!
Recovery was very quick on day 1; I was still pretty numb so pain-free and without the anaesthetic I was able to eat quickly and importantly, for a Yorkshire girl, drink plenty of tea 🙂
And then the pain started through the night. And with it, the insomnia. Now, I'm used to surgery and the fact that painkillers are required to get me through the early stages, especially at night. I had been warned that a knee replacement is much more painful than a hip and I can 100% confirm that's the case. After my hip surgery I was able to sleep between pain meds; this time, not really. With today's modern technology (a fitbit) I can tell you that on average, I had 1-3 hours sleep that week. And that sleep interruption still continues. I'm told that it settles after 3-4 weeks and I'm really hanging on for that because it's so draining. I dream of the day I get into bed and feel my body relax rather than tense.
Thankfully, in hospital my days had a rhythm dictated by others – punctuated by times to take drugs, times to get up and mobilise with the physio, and mealtimes.
After four nights it was a joy to come home, to see my partner and my cat, and to be back in familiar surroundings. The first two days were really hard; after one night of my not sleeping, we ordered a spare bed for the dining room so my partner can, at least, sleep through my insomnia. It took us two days to get into a rhythm of how to wash, when to do exercises, when to rest, when to walk around, when to sit with a bag of peas on my knee to reduce the swelling. Since Monday we've figured that out more, and it is easier to cope within the schedule we have created.
Yesterday was an interruption to that schedule. I was back at hospital having my staples removed (quite painful I have to say) and seeing the physio. The wound is still a little bit open, so I'm steri-stripped up, but it does feel lighter and more flexible without the staples.
So until the wound fully heals I need to be a little more careful with bending the knee for a few days (no more videos of me on my CPM machine until next week).
Walking with crutches is OK and I'm well-practised having owned a pair since I was seven. But I am challenged by the fact that I naturally hitch my right (DDH impaired) hip, rather than using it normally, and so it was clear in the physio session that there is some 'unlearning' to be done. My left side – subject to all the other surgeries – is not strong enough to stand on (I have never been able to stand just on my left leg). Getting up our Victorian stairs is fun – I'm supposed to lead with my left leg, which I have never done in my life, and sometimes if I'm tired my partner has to push it onto the step for me. The joys of being differently-abled and where the bio-mechanic ecosystem that the new knee is fitting into is not in any way normal!
Every day some little things get a bit easier. And for that I'm grateful. I'm also grateful for an amazing partner who is able to be at home with me and shows enormous love and patience in looking after me, and being my carer as well as my boyfriend. I couldn't do this without him.
Love to him and to you all xx
Jill Pringle was born with bilateral hip dysplasia (DDH) and has had a life of surgery including open reductions, leg lengthening, a hip and knee replacement. She writes to raise awareness of her different-ability and to raise money for Steps Charity who support people who can't take walking for granted. You can donate here.  Just £5 provides and information pack for someone newly diagnosed with hip dysplasia and their families.