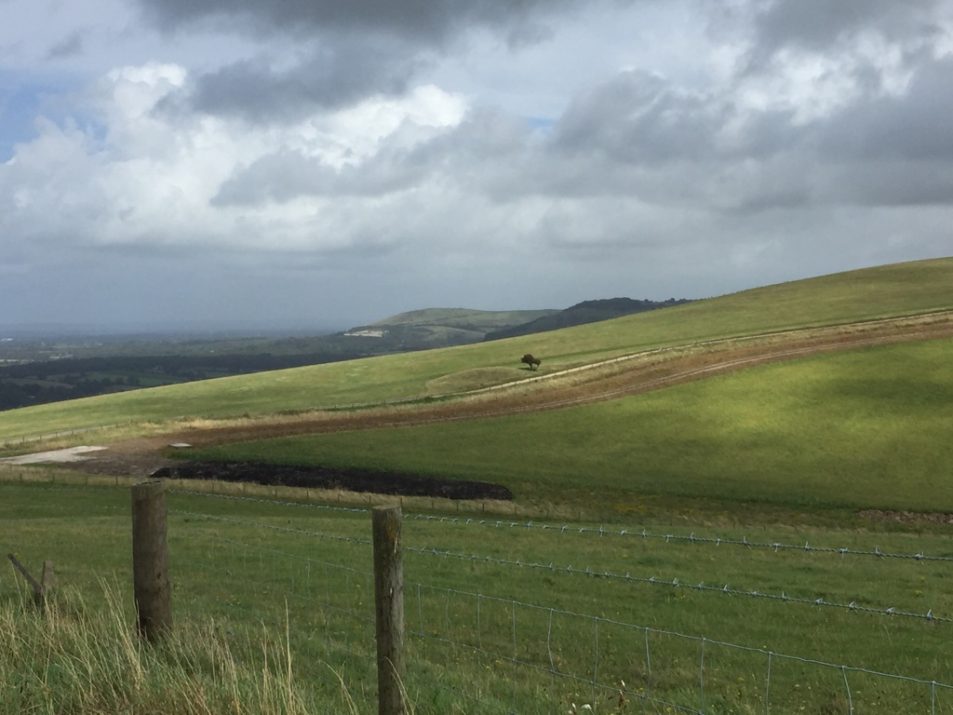 Yesterday I made it to the 66-mile mark on the South Downs Way. I'm walking to raise awareness of hip dysplasia – a condition like over 1 in 1000 people that I was born with. The last couple of walks have felt quite hard; very hilly and, at times hot weather, and it's taken grit and determination to get me through them. Yesterday was different. I set out to walk from 5 miles from Upper Beeding to Devil's Dyke, but actually made it another 3 miles to Pyecombe.
So what made the difference? Tea. You can take the girl out of Yorkshire….
Actually, it just happened to be a perfect day for walking. Like most stretches of the South Downs way, it started with a 200m climb – from Upper Beeding to Truleigh Hill. It was bright and breezy and afforded marvellous views from the offset. It so happened that on this walk – which is in one of the most accessible and therefore popular parts of the South Downs Way – there were nice, evenly spread opportunities to take a rest and have a cuppa. And the first of these was at the YHA Truleigh Hill where the sign that said "Tea and Cake" deal lured me in to their cafe to chat to other walkers and cyclists. Of course many of them were doing the South Downs Way in 3 days (by bike) or 8 days (on foot).
For me it's a bit different. I'm having to 'chunk' it. It's a bit like whenever I've had a programme at the gym. Once we get past the Personal Trainer inevitably thinking they can 'fix' my hip dysplasia by strengthening my core so suggesting I squat and twist with a Russian Ball, we get to the point were it's clear that the best path for me is little and often. More sets with less reps in each means I have plenty of rests between sets to make sure my body is properly aligned and re-align it if I need to. It's the same for me when walking – as I learned two walks back when I walked way too far. For me, the stops are as important as the starts.
I had planned to walk to Devils Dyke where there are plenty of buses back to the train in Brighton. But I was in rhythm yesterday, and there were plenty of places to stop, sit, re-align, and take in magnificent views. On the hillside above Fulking I laid for 10 minutes and listened to the wind. It was just like the opening soundtrack to The Sound of Music (a fave film) as the breeze whipped through the Austrian Alps. Shortly after this I saw The Devil's Dyke pub and thought – that can't be it already! For the first time I was disappointed to get to my destination. And then I spotted that if I kept going another mile or so, there was a second tea shop. Which of course was too good an opportunity to pass. In my family, tea is a religion.
And so I kept walking, past the Devil's Dyke itself, through a landscape of thorny trees that reminded me of being on Safari in South Africa and the type of habitat that Rhinos love.
Clearly the wildlife I passed were dogs and sheep (and a few goats this time) but after a steep descent I was at the National Trust Saddlescombe Farm drinking Rooibos – South Africa's favourite tea! After this brief stop I then made my way up over the last hilltop where I couldn't help but sing a bit of 'Climb Every Mountain' to the sheep – and then down to the A23 at Pyecombe. I jumped on a bus back to Brighton very proud to be in my walking rhythm, 66 miles into my Route.
Jill Pringle is walking to share her journey with hip dysplasia (DDH). And is also raising money for a charity called Steps along the way. If you'd like to give just a few pounds for this charity which helps families of those born with hip dysplasia and other lower leg conditions you can do so here.