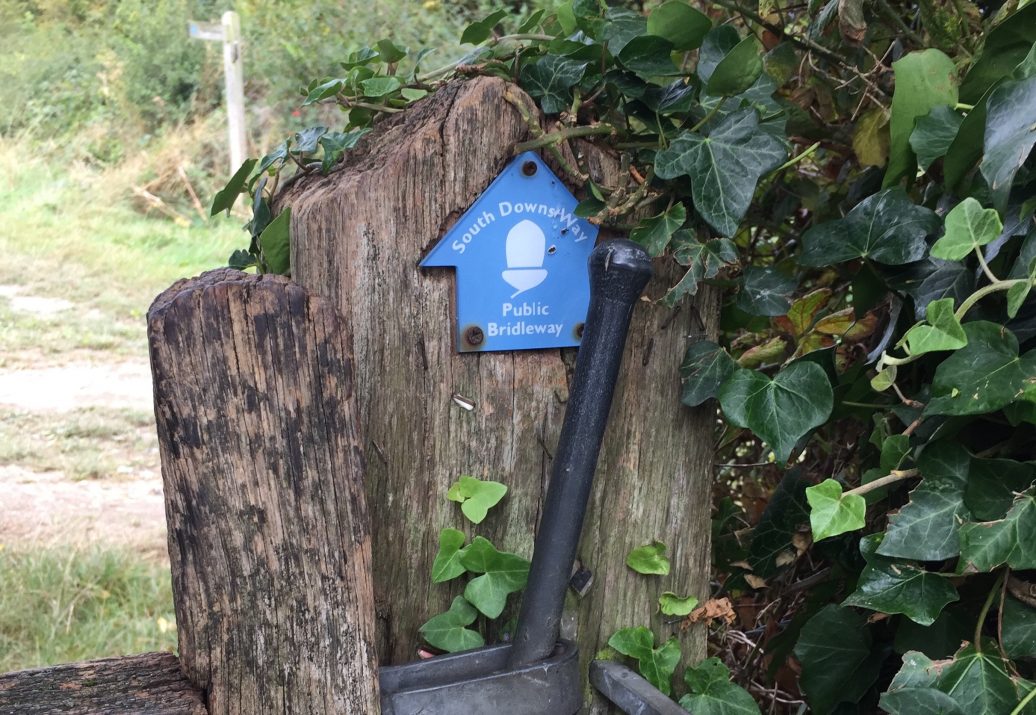 Last weekend I walked another 14.5miles, and on the first day I was joined by two friends. I was born with hip-dysplasia and it was obvious immediately that my hips weren't normal. I knew nothing of Adult DDH until I found Steps Charity last year. It turns out that many people are diagnosed in their 20s and 30s rather than as children, as hip checks for babies don't always catch DDH – as was reported recently by the BBC.
On day one of this walk I set off from Pyecombe and walked the three miles uphill to Ditchling Beacon – one of the most popular parts of the South Downs Way. There I met Sam Beale – who had contacted me after reading my blog last year. Sam supports Steps Charity and was diagnosed with DDH in her early 30s – almost three years after experiencing hip-pain mid-way through pregnancy. You can read more about Sam's story here and what strikes me most is how long it took to get a diagnosis of Adult DDH. As Sam said to me, a common problem is that doctors think you're "too young for joint problems" so don't think to look for so many conditions and especially hip-dysplasia. After 3 years Sam had a PAO; surgery which breaks and re-aligns the pelvis in three places and takes considerable time and pain to recover from.
Sam and I walked along the ridge of the Downs from Ditchling Beacon towards Black Cap with her joyous dog Amber darting to every passer-by to say hello. It was a clear and sunny day with spectacular views to surrounding villages and even out to sea. It was so amazing to meet someone whose story of diagnosis is so different, and yet we have so many shared challenges. Like walking downhill (if you have DDH it's unlikely that "it's all downhill from here" is motivating). Or squatting exercises in the gym (hip dysplasia comes with flat as a pancake buttocks). Or simply trying to judge how far you can walk without being in pain the following day.
For the second half of my walk I was joined by my good friend Hayley Manning. Hayley and I sing together, and she also writes a blog about grief and loss. She is currently training for a three peaks challenge to raise money for Child Bereavement UK. What I love about Hayley is her ability to really connect with people and it was lovely to share part of my walk as she trained for hers. We sat at the ridge of Black Cap eating sandwiches and putting the world to rights (obvs) before making our way downhill to enjoy a cuppa at Housedean Farm where I was staying overnight.
One of the things we talked about was the reaction adults vs. children have to people who are different. I recently heard a brilliant programme on BBC Radio 4 about awkwardness – and how managing other's reactions and awkwardness is one of the hardest challenges differently-abled people face because as adults we're trained not to ask the obvious questions that a child would. Kids aren't awkward – they see something different, they ask why, and they accept the answer.
I felt very blessed to have had two such wonderful people to share my walk, and I'll be posting a social walk shortly to invite others to come and walk with me as I reach the end of my challenge.
Day two I walked alone. Although it was predicted to pour with rain all day actually I just got intermittent drizzle. Heading uphill from the A27 I was soon on the top of the ridge. OK, so when I say soon, I mean it took me over an hour. I was passed (four times) by a couple who were training for the Beachy Head Marathon by running up and down the hill, and it was lovely to chat to them about what we were each training for. Different-abilities, different challenges yet each of us were pushing ourselves to the max in the same great landscape. I then had a thrilling walk along the ridge – views of pretty churches towards Lewes one way and chalk cliffs and the sea the other.
I ended my walk in Southease – a chocolate-box hamlet with thatched cottages around a village green. I was in some pain and it's taken me 2-3 days to stop hobbling, but I felt good.
I believe that we are all differently-abled and we can all challenge ourselves to grow. I never thought I would walk this far, yet here I am – over 80 miles of my challenge done and just 3 days walking left.
I'll be doing that in mid-late October and I'll post the dates and times. I'm hoping to invite others with hip-dysplasia – young or old – to join me for a couple of miles in the valley around Alfriston where the path is much easier. Then I will head over the Seven Sisters to Eastbourne. I hope to see people of all abilities there and if you're interested message me or comment here and I'll let you know where and when.
Until then, much love to everyone out there who has helped me get this far. I couldn't have done it without your support xx
Jill Pringle is walking to raise awareness of hip dysplasia (childhood and adult DDH) and raising money for Steps Charity. If you would like to donate please do so here – £5 would provide a full information pack to the family of someone newly diagnosed.