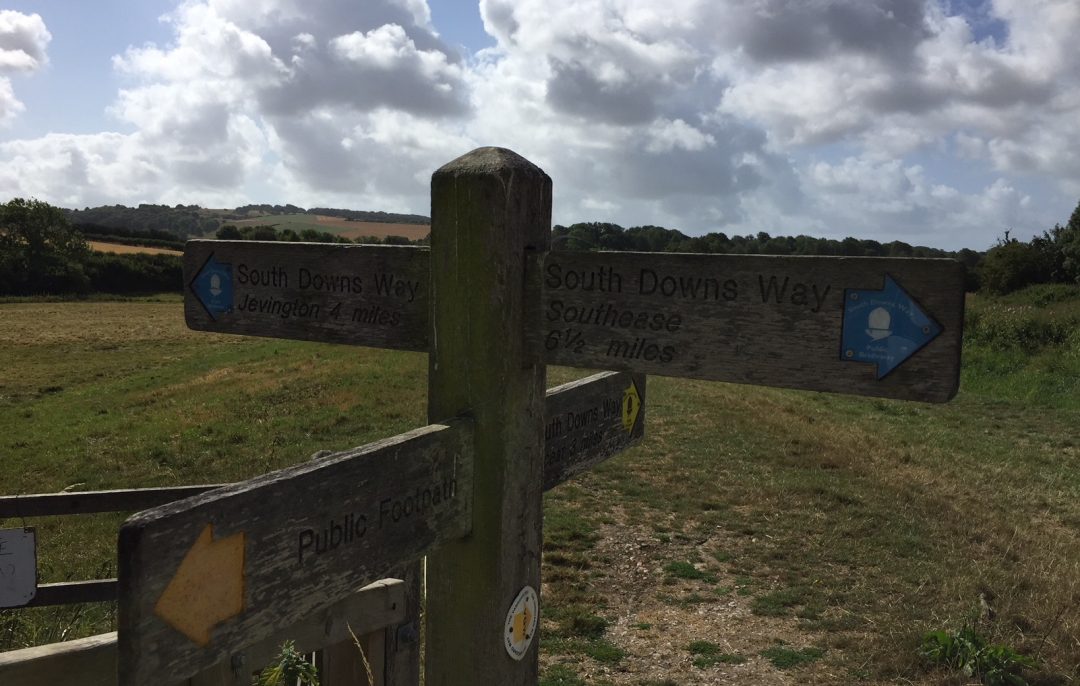 Recently I found myself overnight in Alfriston which, as it happens, is directly on the South Downs Way.  I had a spare hour or so and decided to walk along the path that I will return to at some point on my 100-mile walk.  Straight away I had a choice – left path or right path?
This felt like a symbolic turning point as I had just spent a week on the Hoffman Process exploring my past and finding my own 'right path'.  Over the course of that week I realised I have quite a sketchy memory of my childhood surgery for hip dysplaysia (DDH).  In Alfriston I realised I could take the left path and remain sketchy.  Or the right path – find out more and own the story of my body.
I see so many posts on the Steps Charity group from mums and dads who want to know more about the treatments and surgeries their child will go through.  So I started by asking my mum about her memories of my surgeries.
I had my first operation when I was 5 months old.  My left hip socket was completely missing as was part of my pelvis. So it was clear that walking was going to be a challenge.  Who knows what they could do today with 3D printing or growing bones – in 1971 those were probably sci-fi!
Sheffield Children's Hospital is a teaching hospital and my mum tells me we were regular guests in the lecture theatre there.  My case was unusual so not only attracted medical students but also orthopaedic consultants from other hospitals who contributed ideas about my treatment.
My mum then tells me about a turning point when I was 3 years old.  I'd had eight unsuccessful operations already – they were grafting muscle from my groin to try and strap my femur to the pelvis (being medically untrained I can only picture something like a hinge and a rubber band!).  They were concerned that I was 3 now and had to get on my feet soon if I was going to walk.
On this particular day my own consultant – who was always mindful of phrasing his explanations in front of mum – wasn't there.  Instead my mum heard another consultant say "so as you can see it's a hopeless case".  She summarily grabbed me from his arms, saying "if that's the case, why are you putting her through any more of this" and took me home.  Convinced I would not walk.
It was a turning point because it led to a vote and a decision.  Three of my consultants came to see mum and dad at home.  They explained that there had been a vote and some consultants had voted not to undertake further surgery.  But that the three of them wanted to try one more thing.  If that didn't work they would stop.
On the day of the operation, after watching me go into theatre, a nurse called mum into the office.  On the table was a stack of greetings cards.  They had been sent to the hospital by people from across the council estate where I grew up.  The nurse turned to mum and said "This is going to work. Because this child has so many people rooting for her."
And of course, it did.  The muscles finally held the femur in place.  It was my last chance to walk and I took it.  Five days later I came home and took my first steps.  I guess I'd watched all the other kids around me do it, I was just waiting for my turn.
Today I've been able to walk a few miles along the South Downs Way in Alfriston and I'm preparing for a series of big walks to complete the 100 miles from start to finish.
I know that I wouldn't be able to consider doing that without two dedicated parents, two supportive siblings, and friends, neighbours and a community cheering me on.  And a medical team in Sheffield, led by Mr DK Evans, who didn't give up.  Somehow, together, they gave me my first steps on the right path.  I will always be grateful.  And I intend to use them wisely.