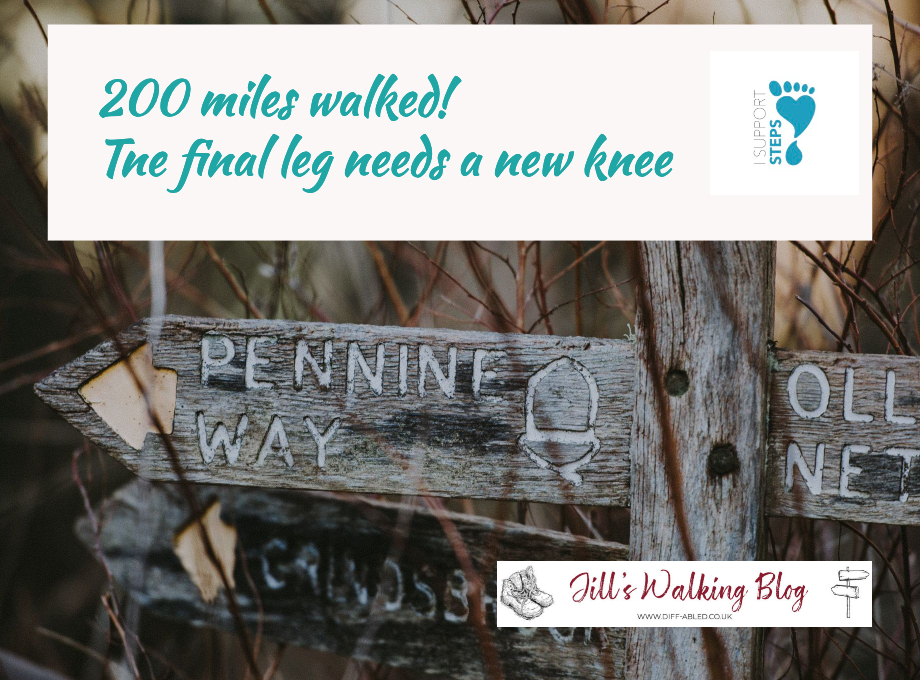 I can't believe it's nearly 19 years since I last had surgery on my hips.  I was born with hip-dysplasia and so my total hip replacement gave me a new lease of life.  Good news is it's still holding strong 19 years on.
But life brings us curved balls and this year, mine was learning that my walking was worsening not due to my hips, but because my right knee is too arthritic and unstable to hold me up. As I approach my 50th Birthday, my knee is saying "enough taking all the weight through this side!"
I'd felt the decline through the year. Where at the start of the year I could go out for 3-4 mile walks with my trusty poles, by late summer I was struggling to walk the half-mile into the town centre. When I'm standing to sing – my other passion – my knees lean on each other for support in an attempt to hold me up, and my shoulders, neck and calves ache from the strain. It feels like I'm slowly crumpling in on myself.
And so I have a right total knee replacement scheduled in January – subject to what happens with covid over Christmas of course.
As I prepare my body for surgery with physio exercises, I'm very conscious of what's going through my mind. "I'm a hip girl, not a knee girl"
First – and foremost – how will I be able to rely on my weak left side whilst my right side heals? For 50 years it's been the other way around for a reason. I have started using my crutches to help reduce the pain and exertion, but it's hard for my mind to switch sides, let alone my body. I know I have to unlearn to re-learn, but this is crazily mind-blowing!
Secondly, what will it be like waking up in hospital without visitors? I'm very lucky to be having surgery right now, I know that. My partner and my sister will need to face-time me which will be weird. But most on my mind is that this is the first surgery I've had without my mum being there. Mum by my bedside pretending she's not really crying, has been a constant through my many hospital experiences. She died a year ago and she's on my mind a lot, even at my age.
Thirdly, what if it doesn't work, then what? This is obviously the biggest fear, the fear of losing my mobility for good. When I had my hip replacement it was the first time I had to sign my own consent forms with the risks of surgery laid out in front of me. It made sense of how hard it must have been for my parents, for years. This year, the stakes are higher signing consent forms to say I understand the many unlikely but possible risks from surgery, anaesthetics and of course covid. None of this puts me off having the surgery I need to get my mobility back, but it is making me somewhat nervous. At my pre-op assessment last week, it all started to feel a bit 'real'.
Finally, what does all this mean for my virtual walking challenge to raise money for Steps? The last three months I have kept going, a mile (or sometimes less) at a time. I'm proud to have made it to the 200 miles marker (so I'd be somewhere in Northumberland on the Pennine Way but not yet into Scotland). But sadly, the last virtual section will need to wait until 2022. Feels like a good rehab target to me.
I will try to blog through the post-surgery rehab and share the ups and downs. Until then, thanks for all your support this year for Steps Charity this year – who really don't take walking for granted.
Merry Christmas and a Happy New Year to you all.
Love Jill xx