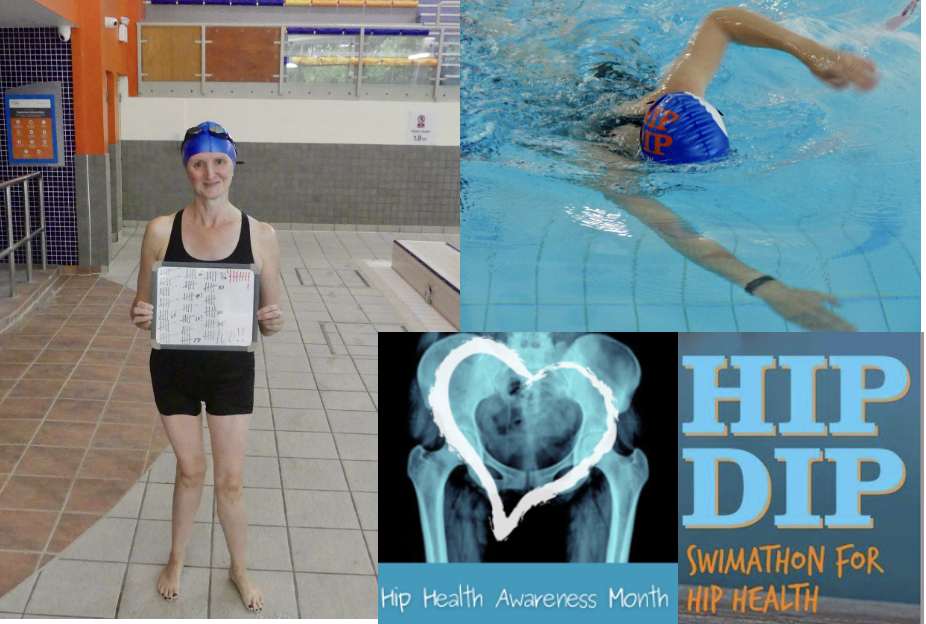 This morning I switched my walking shoes for my swimming goggles for a single 2.5km swim (100 lengths of the pool). I completed my Hip Dip in 1 hour and 7 minutes!
If you have hip dysplasia, or someone in your family does, then you're more likely to know that June is Hip Health Awareness month. Every year, to mark it, Steps Charity hold a Hip Dip Swimathon. This encourages those of us with different hips to take to the pool and raise money for others with hip issues.
Swimming helps me walk. The days that start with a swim are the days I walk better. If I'm having a bad joints day, or I'm in pain, then getting in the pool is the best way to realign myself. I think I was really designed to be more of a sea mammal than a land mammal!
Swimming is particularly good for people like me, born with hip conditions, as it emphasizes upper body activity whilst supporting my body weight. It avoids any load on the hip joints. For me swimming is fun. I have really fond memories of swimming with my parents and group swimming lessons at school. For the first time I found something sporty that I could do as well as other kids in my class. Despite my hips, knees, ankles and feet all being deformed.
I had a hip replacement when I was 32. This was after my old hip – which was actually just a femur resting on the edge of my pelvis as I was born with no socket at all on the left side – finally gave way. I had 18 months of significant pain, commuting to work on crutches, before I finally got my bionic hip. It wasn't a straightforward replacement as, to this day, part of my pelvis is still missing which made grafting a metal socket onto it hard. Yet it transformed my pain levels and I'm so grateful to have had it.
After my hip replacement I recovered first with some hydro-therapy, and then with regular swimming. I took some swimming lessons to get my face in the water to learn front crawl, and from there I've always found the water the most natural place for me and my hips.
I normally swim for 30 minutes and don't count the lengths. But this morning my lovely partner was there to count me up to 100, watched over by the lifeguards. I'm so thankful to the Elmbridge Excel Leisure Centre in Walton for their practical support, as well as the regular the swimmers around me in the pool who took time to say well done! And I can't believe I did it in just over an hour.
And from you, well, if you get chance to pop £5 in the JustGiving page pot, I'd appreciate it. £5 would allow Steps to send out a full information pack out to someone who is newly diagnosed, or their family. It will give them the community and support they need to know there are other people out there with different hips, and they are not alone.
Most of all thank you for reading. That's what Hip Health Awareness Month is all about J
Love to you all, Jill xx
DONATE HERE NOW for Jill's Hip Dip on her JustGiving page.
You can follow @WalkingJill on Facebook or Twitter, or learn more about hip dysplasia from Steps Charity here.