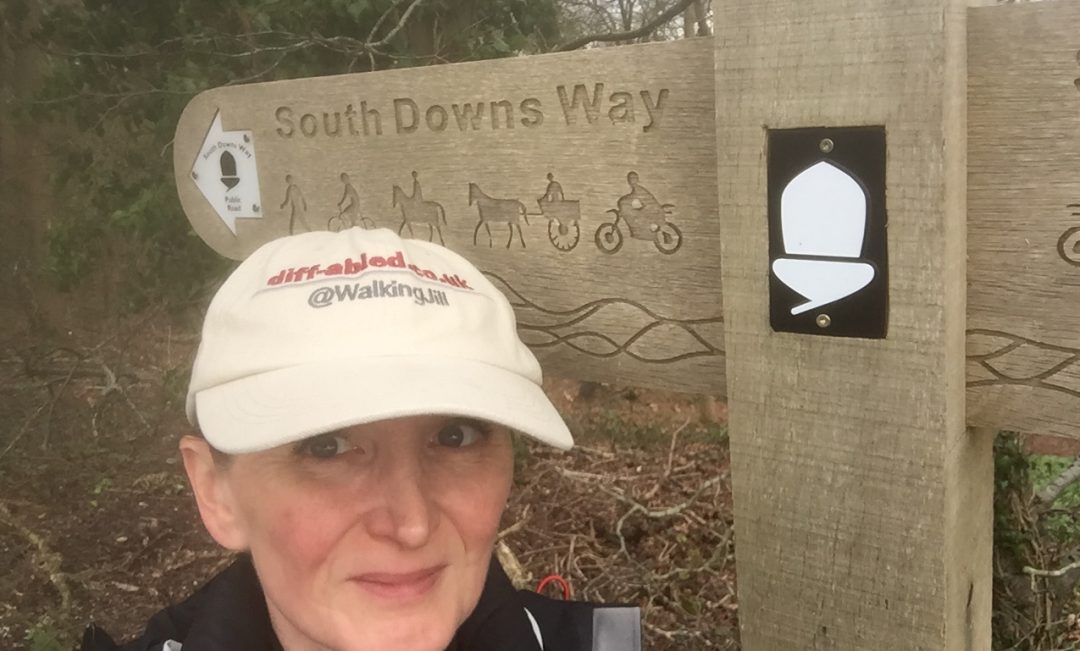 I've taken a break from walking the South Downs Way for the last four months. Today I decided to spring into action and get back on the trail from Buriton to Harting Down.
Whilst I'm sure I missed some breath-taking views of the South Downs in Winter, I have learned that snow and ice don't go so well with hip-dysplasia (DDH). The tricky mechanics of keeping myself on my feet tend to disappear if I can't get a grip on the ground. I become one of those penguins that shuffles slowly along trying to hold an egg on its feet. Let's just say it would have taken a while…!
My Dad (who I have written about so often in this blog) died just six weeks ago and of course I'm missing him so much right now. Being in the countryside always makes me feel close to Dad because he loved it so much. I talked at his funeral about how much he loved the moors of the Peak District, his time living at Lockerbrook Farm as a warden for the WoodCraft Folk, and the work they do to encourage young people to get outdoors and learn to work in harmony with nature and each other.
So over the last four weeks I've been waiting eagerly for 'Spring' – a sign that the weather had permanently picked up and that 'perfect' day to get out there again. Of course, predicting the British weather is about as futile as trying to predict whether my knee or neck or ribs will hurt more or less on any given day. Sometimes it hurts. Sometimes it rains. So today I decided to stop waiting and just start walking again.
At 4.5 miles it was a shorter walk than some of the other 'legs'.  It takes my total so far to 29 miles and I've challenged myself to walk the full 100 miles to Eastbourne by October this year to raise awareness of hip dysplasia.
It was amazing to be back out there. I had forgotten how good this walk is for me – for my mind, for my soul and for my body. I started by dropping the car at Harting Down where a local taxi company picked me up and drove me to Buriton, which is where I left off in November. It's important for me to walk every step of the way in sequence – to do it 'right'. Something else my Dad taught me. The taxi driver waved me off with the cash from his last fare – just one of the kind donations to Steps Charity I've had so far to support people who are born with lower leg conditions like mine.
Today's walk took me along the ridge of the Downs, through pretty woodland and lots of hedgerows. Everything had that early Spring feel about it – a fresh start. It had rained in the morning but lightly. There were lambs in the fields. The birds tweeted calmly, the air smelled fresh and there was a gentle breeze in the many trees. Being up high gave me amazing views over the whole valley, lush green fields punctuated by occasional farms, cottages and villages.
I'm glad I stopped waiting and started walking. I found the spring in my Step I was looking for and ready to walk again. Turns out it was that perfect day after all.