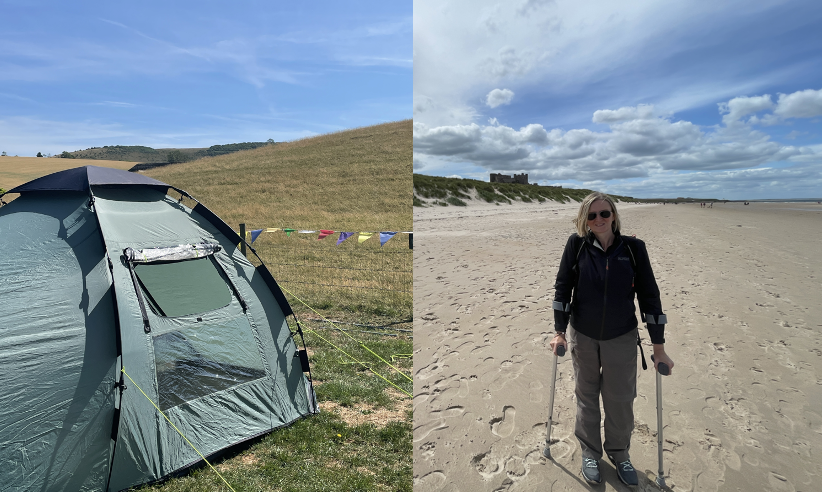 So this weekend I took my new knee camping! I love being outdoors but I have to admit to feeling nervous about it, post knee replacement. I associate camping with a fair amount of crawling around on my knees as we tend to go to basic campsites, with a small tent and minimal furniture; an inflatable mat not a bed; a low folding chair with no table. In short, not ideal for someone with my range of mobility issues on crutches.
And yet I love being in nature and the simplicity. I don't go camping for home comforts.
We tried a new campsite this time and, as it turned out, it was the perfect pitch for me. Each camper gets their own little bathroom hut so I had somewhere to sit to get dressed (try pulling a pair of shorts or trousers on if you can't stand on either leg independently and there's no seat). There was also picnic table next to each pitch, so I had somewhere to sit at a table and so some variety by switching between this and my camping chair (important if, like me, your hips aren't level so sitting in one position for more than 30 minutes is painful). All of this meant I only had to get down to the floor once a day, to get into bed, which is now about shuffling on my bum instead of kneeling.
What was also lovely, was being able to walk about the campsite without crutches – just like I do now at home or in the garden. It felt natural. This is a big shift from a month ago on holiday in Northumberland – when I felt much more reliant on crutches for most of the time. Especially walking on sand to experience the dunes at Bamburgh!
Getting off the crutches full stop is still proving difficult. I need to be able to walk for a while and then use the crutches once I'm tired – and so build up that distance. But that would mean carrying them until I need them, which of course changes my gait. I need my arms free to help me balance. I started walking up and down our road to build strength, but the pavements slope which knocks me off balance. I'm going anywhere crowded, I need my crutches to keep other people at a distance – it's a visual clue for them to slow down and give me space.
I also need them to stand for any length of time, my knee and my feet (in their new orthotics position) get tired without the extra support. I've loved getting back to singing in choirs, and of course it's been possible to mix sitting and standing in rehearsals. I've only taken part in short concerts to date. My first longer concert, where I have to hold music, is not until November and I'm grateful for that break to build my strength. I don't have the ideal physiology to be a singer where posture is so vital and it requires stamina.
Then again, I don't have the ideal physiology for camping or walking either! As Steps say, people with DDH can't take walking for granted.
I've been at this stage before – after my hip replacement this last part of rehab felt so slow. I had one leg I could rely on then; despite my hip dysplasia being bilateral, in reality my left side was my weak side, my right was more dependable. This time it's 50/50 which side is more stable.
I know it will happen. I have faith there will be that point where I forget to pick up my crutches and it feels more normal without than with them. Until then I need to do more swimming – perhaps with flippers – and more walking in the garden. Not just pottering but consciously counting my steps without crutches.
Jill Pringle was born with hip dysplasia (DDH). She's had numerous surgeries including closed and open reductions, leg lengthening, and total hip and knee replacements.  Jill's blog is all about embracing being differently-abled.