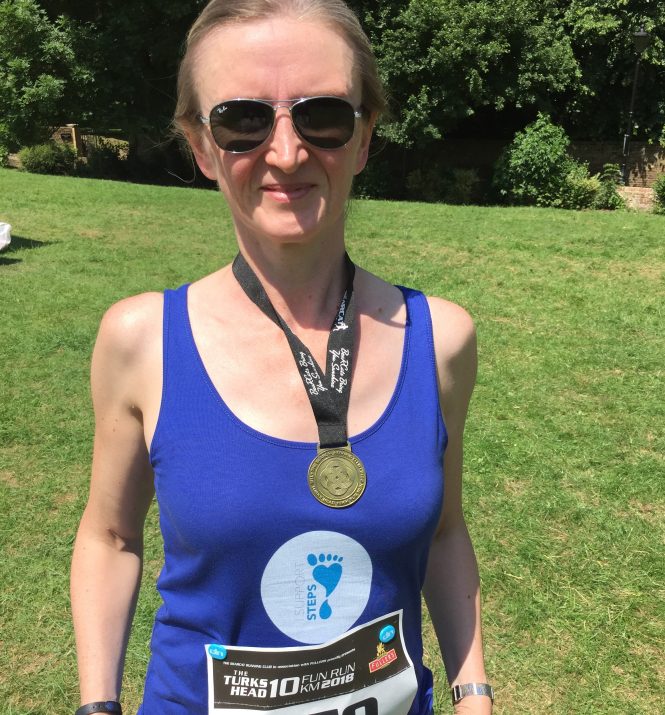 Yesterday I walked my first ever 10K race.
I consider myself lucky.  Despite being born with hip dysplasia, as a child I wasn't bullied much about my walk, or even about my legs with their knobbly knees and surgery scars.  Like many people who have a weakness in one area (for me, sports) I found areas that I was good at and could compete in.  I focused on being a bit of a swot at school and singing with a girls' choir (if you're thinking bookish-choirgirl you're about right and the dating profile that generated is a whole other blog post!).
The downside of focusing only on what I'm comfortably good at, is that for a long time I avoided situations where I had to hang out with the 'sporty' kids.  I'd told myself I didn't fit and would have to 'compare' myself with people who were very physically able.  So I'd spare my emotions and protect my body by playing it safe and not joining in.  I got fairly good at swimming because it's something you can do easily alone, and I braved aquafit classes because they're good for the injured. And that was my keep-fit comfort-box ticked.
Yet I have a distinct memory of being at primary school and insisting (to probably mildly-terrified teachers) that I would climb the tall A-frame or get on the beam in PE class, because I was going to do what everyone else was doing.  Or at least as close to it as I could. I'd just do it the Jill way.  About a year ago I wondered – "where did that little girl go"?  It struck me that she had it about right.  Of course, at 6 you don't understand the risks, at 46 you do.  But risk and reward go together.
So a year ago I joined a local running club.  I've never been able to run really because my hips are at very different levels and my knees and ankles are also mildly deformed.  But I'd learned from friends that they had a walking group and went along.  I remember my first Sunday and how afraid I was.  Afraid that I'd physically hurt myself, but even more fearful of the impact on others.  What if I was too slow, what if I held others back from pushing themselves?  Standing out for all the 'wrong' reasons (wrong in my head, not theirs of course).
I consider myself lucky.  Because the Bearcats was the perfect running club to do this.  I was amongst people of all running and walking abilities who just took me in their stride.  Some run marathons; many do not.  Some of the walkers used to run until their knees stopped them; some are walking first to build up to running something like a 10K; others are just injured for a week or two so walk instead.  Everyone is differently-abled.  They encourage me to push myself, just as they push themselves too.  I've never felt more included, anywhere.
And so yesterday, nearly a year on, I walked my first ever race – the Turks Head 10K fun run.  I did some fundraising for a small charity called Steps, but mainly I did it to push myself.  And to join in with the sporty kids rather than always watch them.
Just like everyone who was doing their first 10K (or even their fifth!) I had to train to build up my distance and pace.  I started walking 4K twice a week and then built from there.  Each week I stepped up the distance or the pace and every time I did, my knees or my hips ached more or my neck locked to compensate for the instability of my funny walk.
Yesterday, I woke up with neck pain and a locked left shoulder.  OK, so that felt less lucky.  Yet I completed the race in just over 1 hour 45 minutes.  I was way behind everyone, it started to hurt through the last few kilometres and I've had to have my neck clicked by an osteopath today.  But I suspect I'm not the only one who's feeling sore today.
I crossed the finish line to people cheering me, just like everyone else.  I did it the Jill way and I fitted in, by standing out.  And I loved every minute.