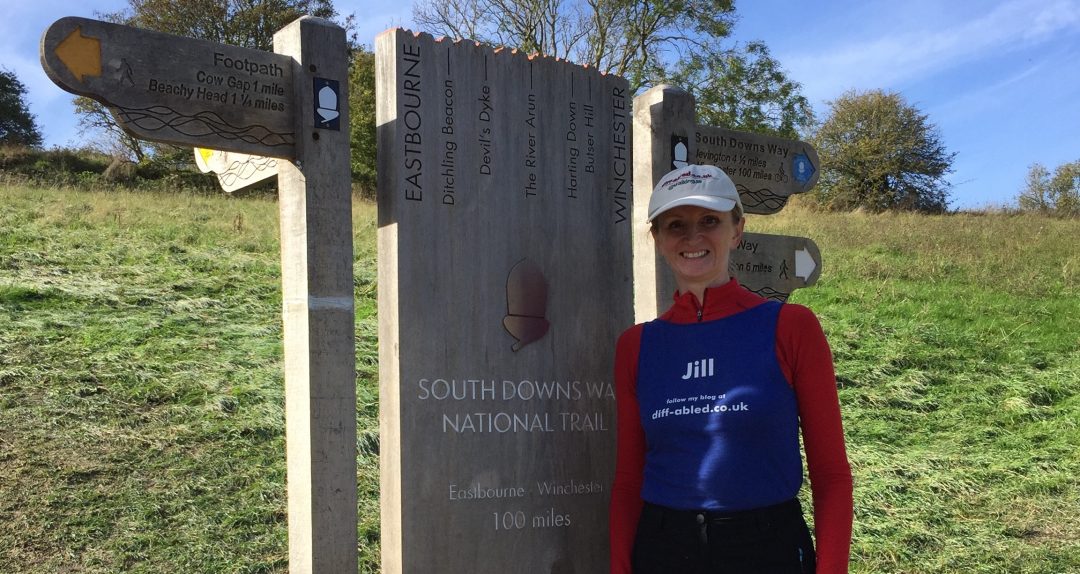 100 miles is a long way for anyone to walk. For me, with hip dysplasia, it feels like a very big achievement. Two weeks ago I completed the South Downs Way and in the end it took me 15 days of walking, over exactly 1 year. For experienced walkers it takes about 7 days consecutive walking.
Emotionally the weekend was a bit of a rollercoaster – not unlike the famous Seven Sisters hills that I tackled on day two! When I set out, I felt excited that I might complete my 100 miles challenge and also nervous – it was the first time I'd tried to walk three days and I knew that even experienced walkers categorise the Seven Sisters as a challenge.
The first day I left Southease Station to tackle Firle Beacon; an 8-mile walk. Despite weather warnings it was a cold but sunny autumnal day and I felt relaxed as I crossed the A26 and headed up Beddingham Hill. I have realised over the last year how much being part of nature has helped me, mentally. A real-life mindfulness app full of birds, trees, flowers, different smells and importantly for me, sounds. I'm very auditory sensitive to my surroundings (I guess as a musician it's not that surprising) and the sound of the South Downs Way has been an amazing soundtrack to my life this year.
Just past the Beddingham Hill Telecom Masts I found a bench with a view and stopped for lunch – just as the Heavens opened. One soggy sandwich later, as all the dog walkers scuttled back to their cars, I started on the path across Firle Beacon. The predicted weather conditions arrived – rain, strong cross-winds and, unexpectedly, thick fog. The promised 360 panoramic views of Firle Beacon were invisible. I could barely see two steps ahead.
We can't control the weather (actual or metaphorical – like the things that happen around us in life or being born with hip dysplasia). And I was reminded acutely of that as it became harder to fight the elements to keep walking. Finding shelter on the top of the hill was hard. Everything 'squelched' as I walked, my pace slowed and my joints ached a bit more. The only thing I could do, was just kept walking. I remembered that I'm lucky – I can do this. Even in the rain and the wind and the fog, I can still walk. So many people can't take walking for granted – which is what Steps Charity is all about.
As I descended towards Alfriston I was out of the fog and wind, and the rain had slowed to a drizzle. I was somewhat bedraggled as I walked into Chestnuts tea shop below my B&B. My mascara had an Alice Cooper feel and my hair was more Bridget Jones then beach-swept. My reward was the best tea and cake ever.
The next day I woke up aching. This was a big day for two reasons – one, it would take me over the Seven Sisters and two, I was meeting two more 'hippies' for the first part of the walk. An unexpected pleasure and benefit of this journey has been meeting others who either have hip dysplasia or family members who do. Being able to share our stories was great fun and it was lovely to meet such amazing women. Whilst the ground was sodden and slippery from yesterday's rain, the Autumn sun was shining bright. Karen, Sam and I walked from Alfriston along the Cuckmere river amidst lush green fields, with the sunlight shining across the water. We made our way to Litlington and then continued up through the fields alongside runners doing the Beachy Head Marathon. This part of the South Downs Way is exceptionally pretty and varied – including two sets of step steps through the trees near West Dean. They payoff was a spectacular view of the Exceat Estuary – and the perfect tea stop to rest.
After that I was back walking alone, and yet I wasn't.  The Marathon was in full force and there were plenty of supporters cheering us on in Exceat.  Since my name was printed on my diff-abled.co.uk vest I was cheered along by people telling me "Go Jill – you've got this". I can't explain how motivating that is; and something I'm so lucky to experience regularly as part of the Bearcats community back in Twickenham.  It wasn't long before I had climbed the steep hill for the start of the Seven Sisters.  I am in such awe of the many people who were running or walking over the seven hills after already running 24 miles!  Many differently-abled walkers and runners sharing the same path to challenge themselves.
After the initial exhilaration of seeing the white chalk cliffs spread out in front of me, it was extremely tough to walk up and down these seven hills. They're pretty steep and the wind and rain chose that moment to return in force. At least the wind was blowing in from the right-hand side (my stronger side) and not facing me head on. I was clinging onto the hillside with my poles, and a couple of times I was blown into the hillside. This is where all my early training came into play – the process of one hill at a time. At the top of each hill I just stopped, sat down, and ate another energy ball or sandwich and took a drink.
By the time I arrived at Birling Gap I was exhausted and once again, bedraggled. As I queued at the NT Café for restorative cuppa, a lovely couple started chatting with me. It turns out one of them was a marshal from the BHMarathon and they kindly offered me a lift into Eastbourne, for which I will remain ever-thankful. It was lovely to reach my hotel, have a shower and simply relax. Needless to say, I slept well that evening!
The following morning most of the guests at breakfast of the Lansdowne hotel were Beachy Head marathon runners and their supporters. A couple of people remember seeing me walking on the Seven Sisters and it was good to chat to them about why I was walking.
It was a strange feeling arriving at Birling Gap for the end of my walk.  All sorts of emotions stirred inside me – excitement, pride and also a sense of loss – my 100 miles walking adventure was nearly over.  I couldn't have picked a better day and it was calm, sunny and peaceful as I ascended to Belle Tout lighthouse on the approach to Beachy Head.  There were very few people about and I was able to stop, sit and soak in the atmosphere and soundtrack frequently.  This time stopping not out of fatigue but just to savour the last four miles.
It was an unexpected treat, as I reached Beachy Head, to see an ice-cream van and my inner-child couldn't resist a 99 with raspberry sauce, overlooking the sea.  Equally unexpected was the terrain of the last mile descending to Eastbourne – a narrow path through scrubland, reminiscent of much earlier parts of the walk, now over 90 miles ago.  The birds were plentiful and their song was crystal clear as I was well into my last mile.
After three hours walking I arrived at the end of the South Downs Way, just outside Eastbourne. It felt like a huge achievement, and I'm very thankful to have walked 100 miles. I never thought I could, but it's amazing what we can do if we try.
It's been an amazing journey – thank you all for your support for me and Steps Charity. Thank you for being there every step of the way with me. We did it! xx
Jill has spent a year walking the South Downs Way with hip dysplasia (DDH) to raise money for Steps Charity. You can still donate here.